Is the Spirit Airlines Big Front Seat worth the Upgrade?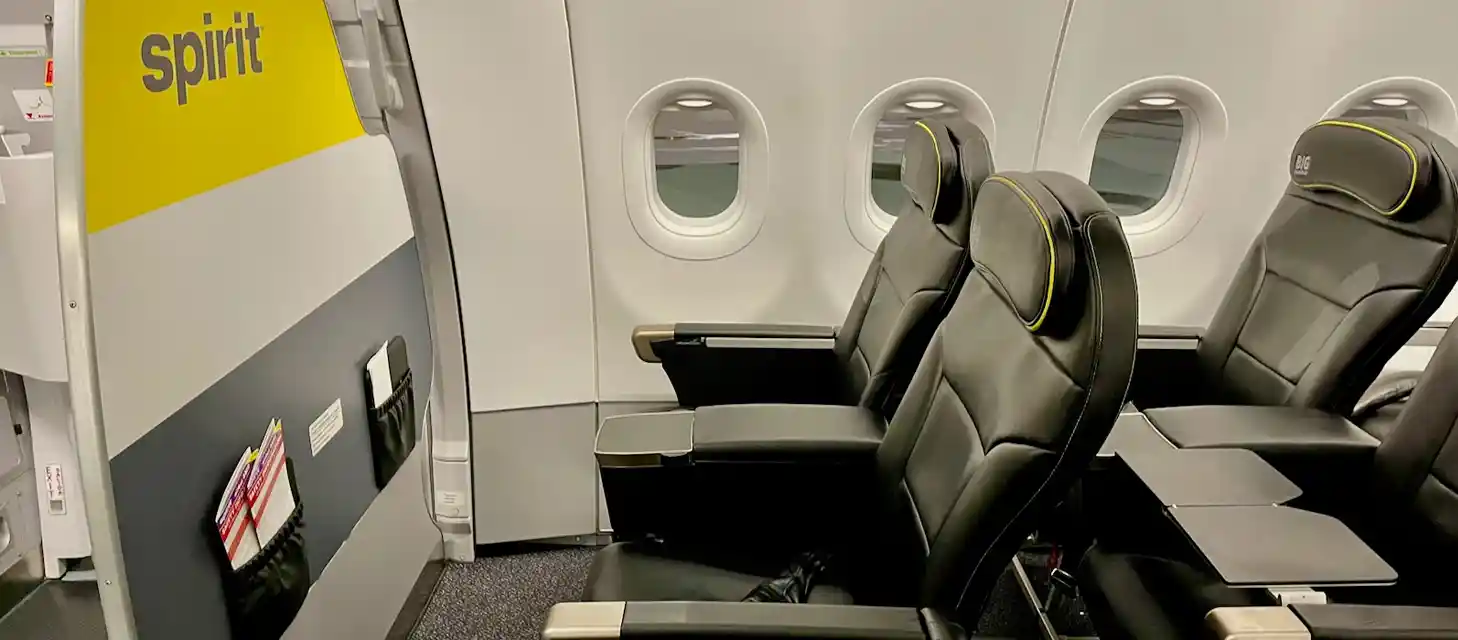 Spirit airlines is one of the budget airlines and the top choice for travellers seeking the lowest prices. But with the low prices, some challenges can come like small, non-reclining seats, no complimentary carry-on, and a lack of free snacks and drinks. To make your journey hassle free, Spirit Airlines offers an upgrade option Big Front Seat. In this article we will find all about the Spirit Airlines Big Front Seat.
What are the Spirit Airlines Big Front Seat?
The Spirit Airlines Big Front Seat is an upgraded seating option that provides a more comfortable flying experience compared to standard economy class seats. Here are some key features of the Big Front Seat:
Size and Comfort- The front seat is cozy and spacious. You will have a big space of around 36 inches between the seats. You can sit and relax on the seats as it is mostly curved. The seats are wider & have 18.5 inches' area in the breath that is standard size for seats.
No Middle Seat- This is one of the major advantages that the rows having big front sears don't have a middle seat. Passengers can sit with comfort as there will be a smaller number of peoples which guarantee a comfortable journey.
Enhanced Comfort: These seats are designed with ergonomic memory foam headrests and additional memory foam in the seat cushions. This added cushioning enhances your comfort during the flight.
Does Spirit Have First Class?
Spirit Airlines does not have traditional first class cabin. Big Front Seat is the closest you will get first class on the Spirit, but it lacks many of typical perks associated with the first class, such as physical separation from the economy class cabin, complimentary food and drinks, early boarding, or free checked bags. Essentially, it's a larger seat in the front of the plane, and none of the Spirit seats recline.
Compare Exit Row Seats with Big Front Seat
If you're wondering whether the Big Front Seat is a worthwhile upgrade compared to exit row seats, it's essential to consider several factors.
Legroom: In the Big Front Seat, you'll have extra legroom, but it's only one inch more than what exit row seats offer. Exit row seats typically cost less than the Big Front Seat.
Seat Width: Big Front Seats are wider, providing more space to stretch out. In contrast, exit row seats are typically narrower and have three seats across, which can feel more cramped.
While the extra legroom in the Big Front Seat may not seem like a substantial upgrade on its own, the additional seat width can make a significant difference in your overall comfort.
How to Book the Spirit Big Front Seat?
Booking the Spirit Big Front Seat is a straightforward process. During the checkout and seat selection phase for eligible flights, you can choose to upgrade your seat to the Big Front Seat. Unfortunately, you cannot use Free Spirit points to upgrade to a larger seat, as miles can only be redeemed for the fare portion of your flight.
Is the Spirit Big Front Seat Worth It?
The question is that is upgrading to the Spirit Big Front Seat is worth it ultimately depends on your preferences and priorities. And if you're looking for luxurious first-class experience with amenities like free food and drinks, early boarding, and more, the Big Front Seat may not meet your expectations.
However, if your primary goal is a more comfortable and spacious flying experience with additional legroom and elbow room, the Big Front Seat can deliver. It provides the superior comfort and space compared to the standard class seats, and it's cheaper as compare to the other traditional business class on other airlines. This makes Spirit Airlines a budget friendly choice for travellers who want to experience the big front seat of the spirit airlines.
Conclusion
Spirit Airlines Flights Big Front Seat offers a great opportunity to upgrade your seat to the Big front to enhance the comfort of your journey. While having the wider seats, bigger leg room, and a more comfortable seats than other. Big front seat offers a more enjoyable travel experience for those willing to pay a bit extra.